Join us on June 21-28 to Build a Water Purification System!
Schools for Sustainability:
The Mission
Schools for Sustainability, Inc. (S4S) establishes and operates self-supporting high schools that teach and model proficiency in integrated water remediation, renewable energies, food production, use of green building materials, and waste management to foster sustainable economic development in under-resourced regions.
The Need
Altagracia is a community leader in Sabana grande de Boya, Dominican Republic. She is a mother of 4 precious children that works over 60 hours a week as a farm hand for less than $5 a day. She also goes to school full time. Her goal is to finish her education so she can provide a better future for her children and her community. Unfortunately, she had to take a break from school because the funds she had saved went toward emergency care for her son after he fell sick drinking the contaminated water in the community.
Stories like these are all too common in underserved areas of the developing world like Sabana Grande de Boya and its surrounding areas. Globally, an estimated 1.8 billion people lack access to clean drinking water according to The World Health Organization.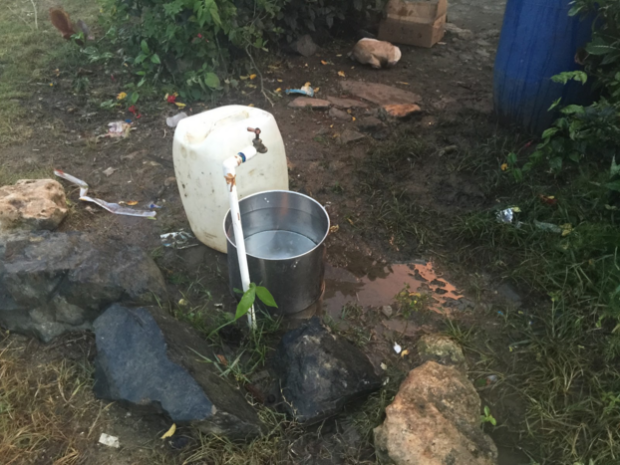 Current Water System in Our Community
While it's known to many that safe drinking water can have a huge positive impact on health, especially for young children, the benefits extend even further. When children are healthier due to having safe water, they miss fewer school days and are better able to focus on their studies. This increases their chances of completing school and earning a higher income with which to support their families and communities. We can therefore not only save many lives in the communities we serve, but also help families in need to break out of the cycle of poverty.
Our Project
Schools for Sustainability, Inc. (S4S) has been working to build a sustainable high school in the community of Sabana Grande de Boya (Monte Plata, Dominican Republic) over the past two years. We set out to learn from our community after 22 acres of land were pledged to S4S by Cesar Fernandez, Engineer, and Leonel Fernandez, Former President of the Dominican Republic. In March 2015, S4S collaborated with Arcadia University volunteers to conduct a community survey and to build an aquaponic unit to produce fish and vegetables without waste products. We spoke with over 40 families about their needs. S4S learned that access to clean water, education, medical care, and jobs were their greatest struggles.
Our community was ignited by our vision and has volunteered their time and skills to ensure our school becomes a reality. S4S is collaborating with 33 Buckets and local Dominican leaders, Altagracia, Rosa, and Juan Alberto, to establish a sustainable, locally-managed water purification project for approximately 5,000 community members and create jobs while doing it by the end of 2016. Our innovative distribution model will provide affordable drinking water, support the school, and ensure that the water project is maintained for years to come.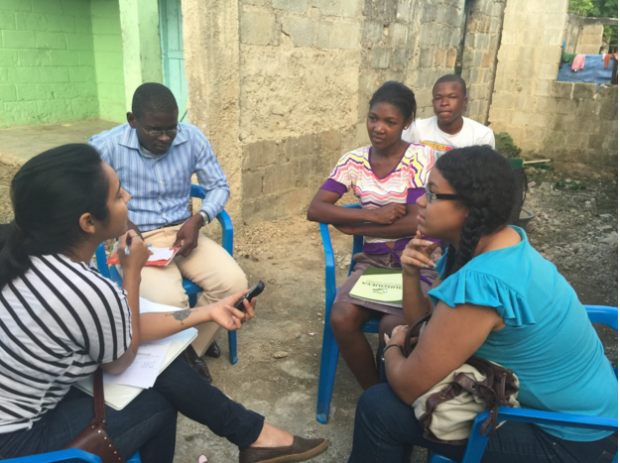 Dominican community leaders, Altagracia and Juan Alberto, speaking with Alyssa, CEO of Schools for Sustainability, and Binita, Service Trips Coordinator, about collaborative solutions for our community's water needs.
How it Works
33 Buckets has come to understand that water issues in the developing world are almost never caused by a lack of technology. There are many solutions, available all over the world, that can effectively purify water on a large scale. The problem is that these technologies are often not reaching the areas that need them the most because of the high up-front costs. Additionally, many times when they do make it to impoverished areas with outside help, the long-term maintenance and water distribution planning are often overlooked. Many filtration systems are abandoned when the first breakdown occurs because there is a lack of capital and expertise to fix the system. In fact, this exact situation happened twice before in Sabana Grande de Boya – a previously-installed water distribution system was damaged by a hurricane, and the community did not have the resources to repair it.
33 Buckets has designed a sustainable model that addresses these concerns. In each project, we first provide the up-front capital to purchase and install an effective water purification system. We then work with the community to establish a sustainable, comprehensive project, focusing on three key aspects:
Community Education: We organize and train a Water Advisory Committee of local leaders with unique insights into their community. The Committee takes on the responsibility for overseeing, maintaining, and tracking the progress of the water project after our team has left. Additionally, we work with local leaders and schools to educate community members on the importance of clean Water, Sanitation and Hygiene (WASH).

Sustainable Business: The 33 Buckets team conducts extensive research in the community to understand the market for water and helps the Water Advisory Committee establish a small business that distributes the water. Each family pays a very small monthly water tax of (about $3 a month) that covers the maintenance costs of the water purification system. A portion of the profit is donated to local schools and/or community projects.

Locally-Sourced Technical Solutions: Different communities require different technical solutions for their unique needs. In each case, 33 Buckets works to select the ideal water purification system based on water test results, local constraints such as reliability of electricity, and the required scale of the project. The system, and all other materials used in the project, are required to be sourced from local companies. Should a problem arise, repairs can be promptly made by the company (or the community with the support of the company), ensuring the longevity of the filtration system.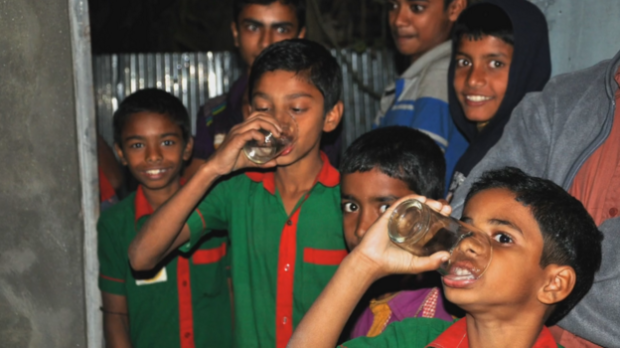 Local children enjoying the clean water produced by 33 Buckets' last water project in Baher Char, Bangladesh.
What Makes Us Different
Schools for Sustainability, Inc. and 33 Buckets have unique models that we will eagerly merge in order to increase our impact. 33 Buckets' comprehensive model of providing proven technology, education, and income-generating micro-businesses sets us apart from other, larger organizations aiming to provide clean water. This approach ensures the long-term sustainability of the project and has the ability to generate money to support local schools.
Schools for Sustainability, Inc. strives to tackle the root of issues such as climate change and poverty via education. We believe communities thrive when youth are taught to think critically and have the knowledge, skills, and tools to address social problems. Our residential, vocational-technical high schools model and teach organic farming, water purification, clean energy practices & technology, and waste management through a project-based curriculum We will be the first sustainable school in the Dominican Republic.
We believe we can maximize our impact by combining our knowledge and resources. 33 Buckets' team of engineers brings a range of skills including technical knowledge and comprehensive, community-based solutions. The community is not only empowered to assist with the construction, but also learns how to maintain and sustain the solution. S4S has built a solid relationship and fostered trust with the community and its leaders over the past two years. We have also mobilized social changers to contribute their own expertise by joining us on educational service trips. Most importantly, both of our organizations share the core value of sustainability by empowering communities to become self-sufficient.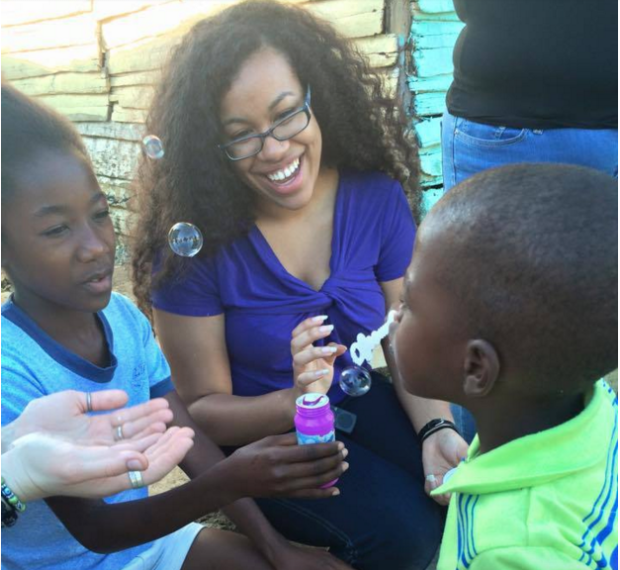 Alyssa, CEO of Schools for Sustainability, Inc., playing with the children in our community.
Your Impact
By helping us reach our campaign goal of $10,000, you will enable us to complete this project in Sabana Grande de Boya, Dominican Republic, by the end of 2016. 100% of your contribution will be used directly on the project, to accomplish the following outcomes in the community:
Implement a long-term solution for clean and affordable water in Sabana Grande de Boya

Improve health by spreading awareness of the importance of sanitation and hygiene through a WASH education program. Millions of people around the world suffer from water-related ailments that are easily preventable with the right education. In fact, the CDC has estimated that proper hand washing alone can reduce water-borne disease by over 40%.

 Provide clean drinking water to our students, which improves attendance rates by decreasing water related illnesses.

Empower communities by providing the basic tools and resources needed to improve their economy. UNESCO estimates that every $1 invested in water and sanitation results in a gain of up to $12 for the local economy.

Improve education in rural areas. A portion of our proceeds generated from selling water will be put aside for job creation and the cost of maintaining the water filtration system. The rest of the proceeds will go toward the next S4S sustainability technology that our community needs.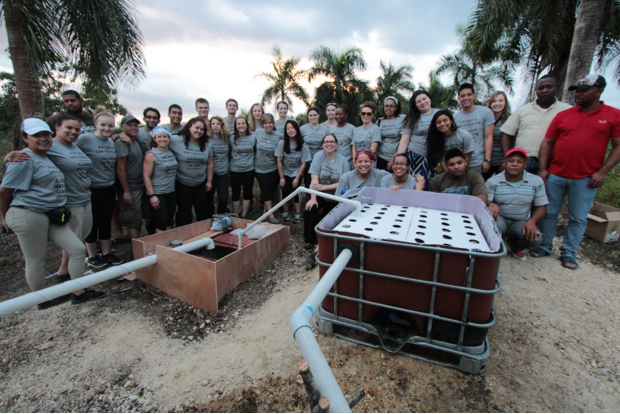 Arcadia University students building an aquaponic unit in March 2015.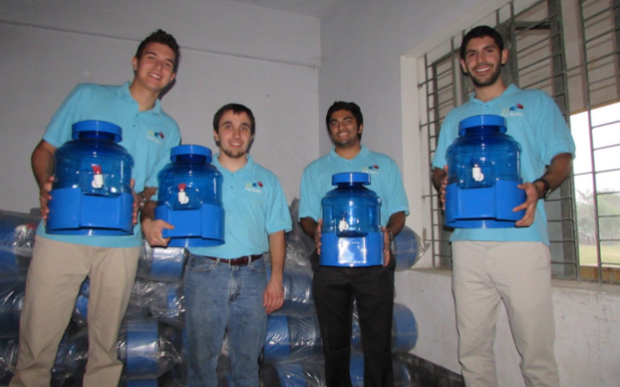 33 Buckets after completing its water project in Baher Char, Bangladesh, in January 2015.
33 Buckets and Schools of Sustainability, Inc. are united by the belief that every person has the potential to make a positive difference in the world. By supporting our work in Monte Plata, Dominican Republic, you join in creating our vision of a world where no one lacks as basic a human need as clean water and everyone has the opportunity to pursue a fulfilling life for themselves, their families, and their communities.
Join us in our effort to provide clean drinking water to the Dominican people.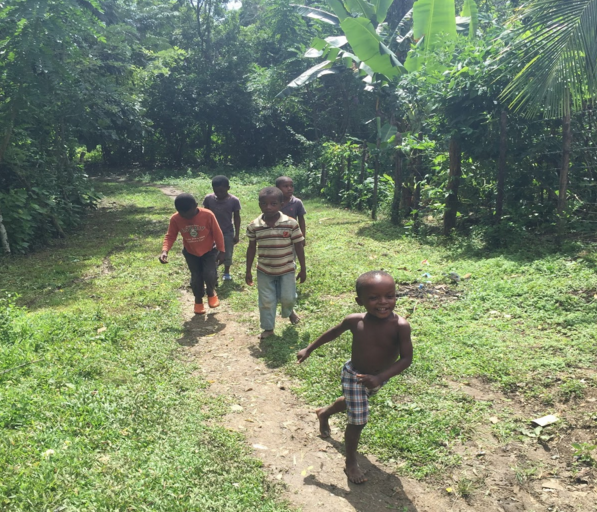 Children in our community for whom we are providing clean water.
Schools for Sustainability, Inc. has won the WIL Empowerment Grant. In accordance with WIL of Greater Philadelphia's mission of "empowering women as leaders globally," WIL offers competitive empowerment grants to provide financial support for non-profits and NGOs working in developing countries.   The empowerment grants target areas of WIL's mission other than microfinance and village banks: education, health, training, social and political empowerment programs for women. The Empowerment Grants Committee awarded us a grant of $500 to help Schools for Sustainability, Inc. and 33 Buckets provide clean drinking water for Dominicans and Haitians. Have general questions?
Other ways to get involved:
Donate to Schools for Sustainability
You can help support Schools for Sustainability's mission to teach sustainability: http://schoolsforsustainability.org/donations/
Donate to Schools for Sustainability
Volunteer to Help Schools for Sustainability
If you would like to volunteer with us we would love to have you. We are always seeking grant writers, event planners, researchers, marketing assistance, editors, and so on.
Please send your resume to alyssarr@schoolsforsustainability.org with "Volunteer" as the subject line.
Share Schools for Sustainability on Social Media
Schools for Sustainability prides itself on creating a community. We also excel at using modern technology to foster and maintain that community. Let us into your news-feed and let us know your thoughts! Join our community through the social media outlets below and show the world what glowing support this project has. As a technology based startup, witnessing and participating in the journey of our schools are just one LIKE and FOLLOW away!
Like Us on Facebook
Follow Us on Instagram